News — Slowpitch
Posted by AxeBat US Admin on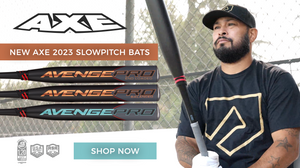 While Axe Bat is no stranger to slowpitch softball, one thing is for certain, 
the 2023 Axe Bat slowpitch lineup
 is turning some heads… and for good reason.  While previous model iterations have provided ample performance and durability, specifically dating back to 2021, new regulations in the industry have allowed an opportunity to capitalize on years of research and development, and create a lineup of bats currently topping the industry in barrel performance.
Posted by AxeBat US Admin on
Each individual governing body chooses to regulate bats via their own performance metrics; however, all modern metrics are measured identically via the bat performance cannon described above, and values that are compounded by the ratio of outbound to inbound speed measured by the cannon process. Each of these individual metrics are described below.
Each bat sold in the American bat market is required to pass certification testing at a third-party laboratory for its given regulatory stamp prior to production and sale of that bat design.